Description
ESET Mobile Security for Android – Download Version – No Box Shipment + Free Training + Free Technical Support (*WEB ONLY*)
Explore the Internet safely,on the go.
The online world awaits, and it's increasingly mobile. With protection from ESET, there's no reason to hold back. Dive in, using your Android™ smartphone or tablet, and know that we've got you covered.
 Stay current on Android threats and tips to protect
your personal data and device at the ESET Blog.
Enjoy Safer Technology™ with ESET Mobile Security for Android.
Features that allow you to safely explore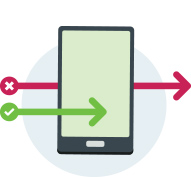 Web-browsing or shopping online?
Explore the Internet with confidence, protected by Antivirus technology that scans all files, websites and emails. Anti-Phishing shields
your identity and personal data against theft.
What would you do if your device went missing?
Proactive Anti-Theft increases the chances of recovering your lost or stolen device by enabling it to email you notifications, transmit its current location so you can track it onmy.eset.com, sound an alarm or even erase the contents remotely.
Want to see what personal info your apps use?
All installed apps are scanned and organized with Apps Audit to show permission levels and what information on your phone or tablet they can access.
Android 2.3 and higher
Amazon Fire Phone (Fire OS)
Device RAM 256+ MB
Memory: 12+ MB
Touch screen (minimum 240x320px)
Processor: 500+ MHz ARM7+
Internet connection
Internal storage 20 MB+
* Some feature functionality is OS version dependent.